It is possible to reach the Cave in two different ways: by land or by sea.
To get to the cave by road from Alghero, take the SS127 out of the town heading towards Fertilia. Stay on this road until you reach a roundabout, where you should take the exit onto the SP55. After about 24 km, as the road curves around Capo Caccia, this will take you all the way to one of the best views in Sardinia.
You can reach the cave by car or bus: from the city to the enchanting bay of Porto Conte to the extreme tip of the promontory, immersed in the lush vegetation of the Mediterranean scrub. From the Capo Caccia car park, visitors follow the path on the western side of the Cape, taking the Escala del Cabirol or Roe Deer Stairway.
654 steps reveal the wonderful scenery overlooking the sea and up to the heart of the earth, where the blue sea of Alghero and the sky unite in an embrace on the horizon. This really is an amazing place you should have at the top of your wishes to see when you are visiting Alghero and Sardinia.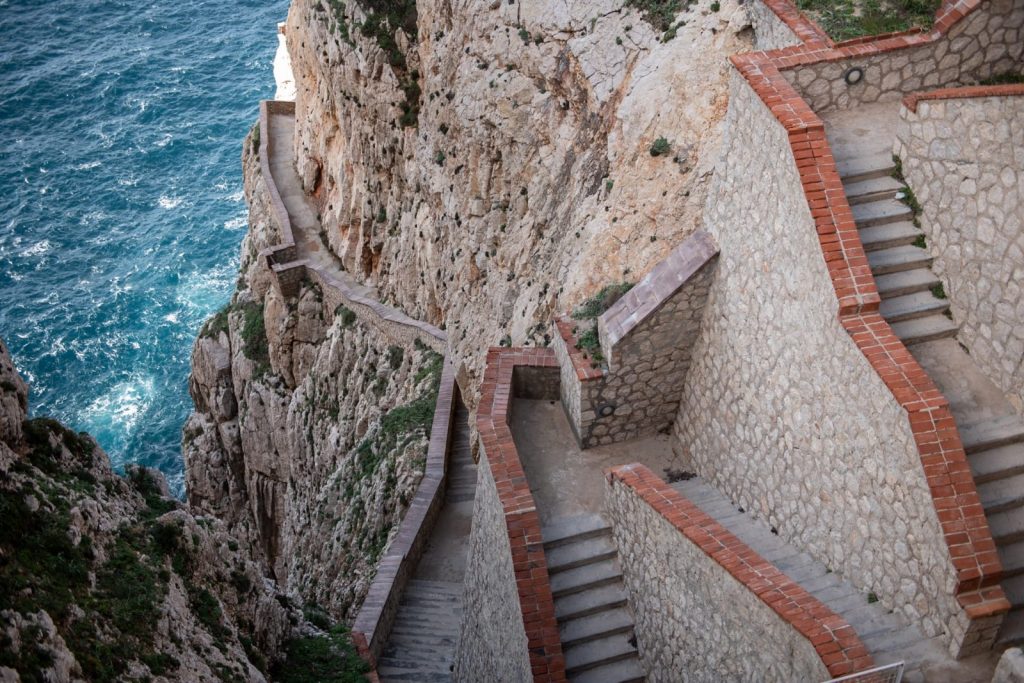 ORARI AUTOBUS:
Public Bus Service – all year round: ARST
http://www.arstspa.info/9321.pdf 
To get to the caves by public transport, a daily ARST bus departs from the main terminal –via Catalogna (50 minutes journey) in Alghero, at 9.15 and returns at 12.00.
From June to September, there are two extra runs at 15.10 and 17.10, returning respectively at 16.05 and 18.05.
Private Bus Service: Cattogno Bus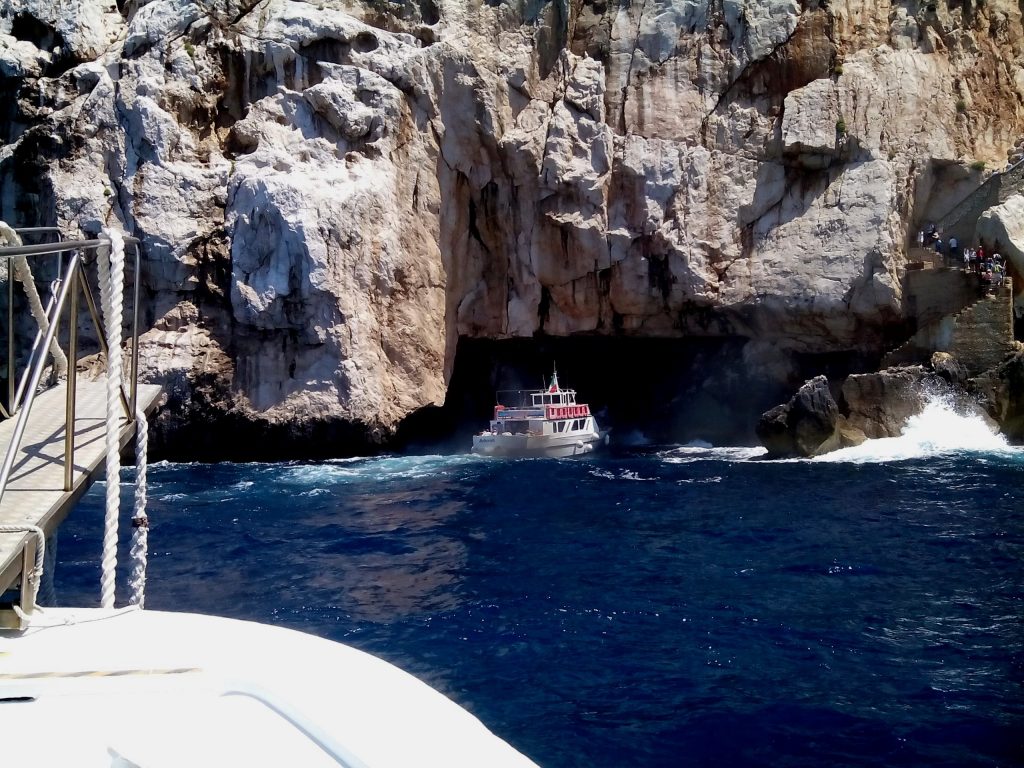 The easiest way to visit Neptune's Cave by sea is to take one of the boat trips that leave from the Alghero's harbour on a regular basis or from the pier of of Cala Dragunara in Porto Conte Park. This is by far the best method of visiting for anyone with children or elderly people.
The journey by boat takes about 40 minutes. Visitors can admire the scenery of the Coral Riviera as the boat passes close to the Cape Galera and Punta Giglio cliffs and then rounds the tip of Capo Caccia to arrive right at the entrance to the caves which lie at the foot of a towering cliff – an impressive sight set against the backdrop of the small island of Foradada.
Not only do you avoid the steps down the cliffs, but the journey is thoroughly enjoyable and affords you excellent views of the cliffs as you approach.
 Linea Grotte Navisarda   
Harbour of Alghero- Banchina Dogana
 This service is active!
Phone +39 079 950603 | +39 320 7412400
Frecce delle Grotte
Harbour of Alghero- Banchina Dogana
This service is active!
Phone +39.368.353.6824  | +39.331.722.9999
The boat ticket does not include the entrance fee to Neptune's Cave.

NOTE that in adverse sea conditions, visits to the cave are suspended.
È consigliato verificare l'operatività di servizio prima di arrivare (sia dalla scala che dal porto) chiamando il numero +39 345 7418361 o l'ufficio informazioni turistiche al numero +39 079/979054 (sequenza tasti 1-1-1) o seguendo gli athe updates available on the official Facebook and Instagram pages of the Cave
https://www.facebook.com/Grottadinettunofficial  
https://www.instagram.com/grottadinettuno/